Sad, sad news: if you currently Image Google the word
Constantine
, your first hit will be a still showing Keanu Reeves, as renegade occultist and high-tech exorcist John Constantine, smoking a cigarette and finishing a bottle of cheap booze. Sadly enough, the Roman emperor Constantine, responsible for declaring himself a Christian and thus altering the history of the world, only comes in a distant third in Google-land.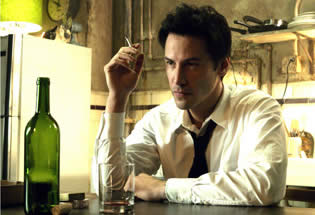 Keanu Reeve's new film
Constantine
is terrible. The movie, directed by Francis Lawrence, and adapted from a seminal graphic novel, is the latest in Hollywood's new trend to adapt works of this genre into popular films. This time around the results are very poor. But I am not surprised. It is not the first time that Hollywood takes a stab at this form of entertainment and fails to achieve the kind of results that have proven to be so successful on the printed page.
A few years ago,
From Hell
came pretty close. The Allan Moore, Eddie Campbell graphic novel was ably adapted by the Hughes Brothers into a visually captivating film starring Johnny Depp, Heather Graham, Ian Holm, and Robbie Coltrane. Propelled by the mystique surrounding the Jack the Ripper murders, the movie did very well at the box office and received very positive critical praise from many critics. When I attended the film, I did not know that it was an adaptation, and much less of a graphic novel, a genre that I was still calling comic books back then. Once I got around to reading Allan Moore's book , I thought that his work was vastly superior to the Hughes film. The novel was in black-and-white, somehow making the grisly events portrayed even more gruesome, and giving the work a dark Victorian look. My first thought was that the film should have also been made in black-and-white. But green-lighting a B&W movie these days in Hollywood is next to impossible. Besides, nobody in Hollywood nowadays seems to know how to work in B&W, except for maybe Woody Allen, Martin Scorsese, or Jim Jarmusch. The graphic novel's elegant pen and ink drawings had given way to a rainbow of Hollywood colors, and somehow, it was all wrong.
Another Allan Moore work (and my particular favorite)
The League of Extraordinary Gentlemen
became a disastrous movie starring Sean Connery. The least said about this film the better. Suffice it to say that, enthralled by this book, I seriously looked forward to the film adaptation. When I finally got around to see it (on HBO, mind you, the reviews kept me away from the theaters and saved me a few bucks) I could not believe my eyes. This movie changed my life. After that, I no longer looked forward to Hollywood adaptations of novels, graphic or otherwise.
I should have stayed miles away from
Constantine
. One of my friends had a nice "I told you so" after I informed him how much the movie stunk. Wondering about it, I think that the reason why I went to see it was due, no doubt, to its amazing trailer, which promised a compelling visual feast back in December, which lured me back to the theater months later, and ultimately delivered very little of what it originally promised. But a two minute trailer is really all that
Constantine
has going for it.
By the way, this is Francis Lawrence's first film, having previously only directed music videos for Britney Spears, Will Smith, and Aerosmith. No wonder the movie was awful, and the trailer highly effective and promising. Now that music videos have become the training ground for future hacks, we are certain to expect a lot more
Constantines
filling digitally-projected screens in every multiplex in America. Now if we can only get a real exorcist to drive these movies back into the infernal abyss from whence they came, then we could all sing hosannas and other triumphant sounds of victory.